Put The Profit Back In Building
Like many construction companies, you hired the best people, you've bought the finest technology you could find. The goal? To avoid wasting time, unnecessary rework, cost and schedule overruns and preserve your profits. But it's not working as well as it should be. According to AutoDesk + FMI, 52 % of rework is caused by poor project data and miscommunication. So what is the problem?

It's the process.

Your construction management platform should have the capability to keep all construction plans, specs, RFIs, and other project documentation in good working order and easily accessible to the subcontractors you need to get the job done. The result is your profit margin is intact with no mistakes, minimal risk, and minor delays.
But…
Our experience shows an error rate on average of 43% of sheets released have errors in drawing identification, revision history, callouts, and missing layers. These errors aren't caught by software solutions.
You and your subcontractors use a

wide array of software solutions in addition to your primary construction management platform, including field mobility, BIM, and VR tools.

Different design and construction teams are all using their own platforms, and every project we see consists of a patchwork quilt of systems and tools. They're all working in their own siloes. When incorrect or incomplete information is introduced, it can be shared to other repositories used by companies working on the project. The odds of the project platforms having synchronous information are zero. As a result, mistakes multiply, delays increase, and your profit margin erodes.
No one sets out to add or use unreliable information but inconsistent processes used to name, update, delete or organize documents lead to downstream issues that cost you money. The result is a snowball effect and a dangerous level of mistakes and coordination delays that continue to lower your margins making your project less profitable, more prone to delays and risk despite your best efforts to invest in state-of-the-art technology.
Understanding WHY your technology doesn't help you increase profits is the first step in solving your document management problem.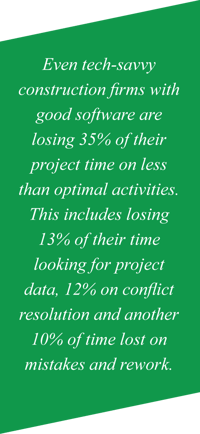 In collaborating on thousands of complex construction projects, BarkerBlue Build Build has identified the key driver that can be improved is not people and technology but rather process.

Your document management technology isn't the obstacle.
Your people aren't the problem.
The process used by the people utilizing the technology—that's the problem.
You have choices to make when trying to solve this problem--


Throw More Technology At The Problem
You could search for the elusive silver bullet of technology that can connect all the project platforms.
But that creates other issues and increases your capital outlay. Many people say technology is only as good as the people who use it. But really it's only as good as the process utilized--the data that's used by the people using the technology. If your employees haven't adopted consistent processes with the existing technology, why would you expect them to improve with new technology? Even if you did find a silver bullet, you would still need to contend with subcontractors using their own project tools loaded with misaligned information.


Hire More People
Documents don't always arrive when the timing is right. Sometimes drawing issuances hit with a fury. And everyone wanted them yesterday.

Your first reaction may be to hire more people. But, that decreases your profits to staff to peak load. When 500 drawings are issued, it takes time to run a comprehensive quality control process, catch the 43% average (or 215 sheets with errors) and compile a discrepancy report. So, to get your subcontractors and your project moving again, you load documents that haven't been checked for errors in versioning, indexing, missing layers, links and untracked changes--and your 43% error rate multiplies. The abandoned error correction cycles cause risk, delays and kill your profit margin.
Shouldn't there be a way to get what you want — accurate construction documentation — from the beginning — without spending more on technology or hiring more people?
There is.
Let the experts handle it.
A Better Bottom Line Begins With BarkerBlue Build.
The Critical Path To Better Document Management


Boost productivity and increase profit, mitigate risk and minimize delays by outsourcing your document management to the BarkerBlue Build Build team of experts. They can analyze your documentation quickly, identify and correct any inconsistencies and keep unresolved RFIs from multiplying.

With a full accreditation in Procore, PlanGrid, Bluebeam, Fieldwire, BIM360, Revisto, Egnyte and Box platforms to lean on, the team of construction documentation professionals at BarkerBlue Build has built a proven process to ensure your construction data is accurate and up to date across all the platforms used by you and your subcontractors. The BarkerBlue Build team understands construction, they understand the issues that create mistakes and they understand what those mistakes cost you. They use a consistent process to find the mistakes and duplicate documents, resolve issues, get the correct information and any new documents and RFIs are loaded quickly across all platforms to prevent issues downstream that cost you money.
This problem isn't new.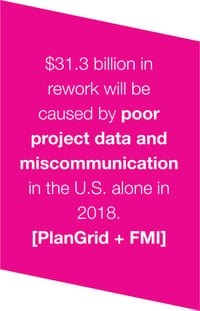 The resolution is. Now you can finally fix the problems that have been eating away at your profits for years without acquiring additional technology and without hiring more people. You can fix these issues on every project, every time by ensuring that the information inside your project tools is clean and accurate.

BarkerBlue Build can customize a solution to address your project dynamics and specific problems. We'll improve your profitability by improving the quality of your information. Examples of some of our services include:


Preventing the buildup of unpublished RFIs
Coordinating trades within BIM model
Identifying unmarked changes to drawings and specs
Ensuring accurate version control
Perform platform integration to ensure synchronized building data

And it's cost effective too. Your total expense can be a fraction of what it would take for any GC to implement on their own. The fixed fee from BarkerBlue Build can easily be included in the General Conditions section of your construction proposal, base bid or bid alternative. And the best part? Your project teams get to focus on the business of building, making them more productive while BarkerBlue Build takes care of the painstaking maintenance of accurate information.

What about timing? The BarkerBlue Build team of professionals pride themselves on being able to handle your construction project documentation from Pre-construction to Closeout — and anywhere in between.

If you're interested in improving your profit margin, avoiding delays and decreasing risk, BarkerBlue Build can help. Call us today at (650) 696-2100 email at build@BarkerBlueBuild.com or take a look at our website: BarkerBlueBuild.com